Oldest Nevada Casino, Railroad Pass, Turns 90 Years Old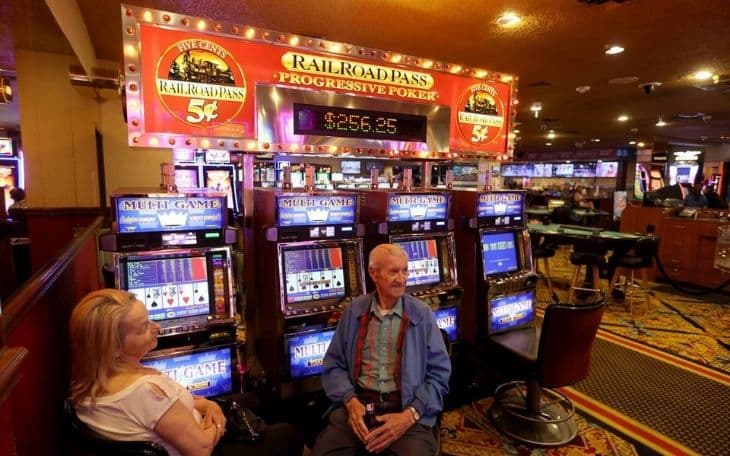 The oldest existing casino in Nevada, the Railroad Pass, just turned 90 years old. As part of its 90th birthday celebrations, two very old customers of the casino, 90-year old Harry Myrchak, and Jan Radunz, were brought to Nevada from their homes in Boulder City.
A huge safe is still housed at Railroad Pass that was once used by the government to store funds to pay workers working on the Boulder Dam. As per birthday celebration plans, these historical events of the Railroad Pass's past were out on display with old photos all across the casino floor.
One of the displayed photos shows that the casino property once even had a schoolhouse. Mary James of Kingman, Arizona, is presently 72 years old and has been honored with a photo of her family on the casino floor because she has been a loyal customer of Railroad Pass for 40 years.
But the present owner of Railroad Pass, Joe DiSimone, is not happy with just wallowing in the past. He wants to hold on to the casino's rich past but also introduce some changes to make it at par with the more swanky and modern casinos all over Nevada at present.
Since taking over the casino in 2015, DiSimone has already introduced many changes. He has updated the slot machines and added more; he has also modernized the hotel room facilities and put in a Chevron gas station to attract more truckers.
DiSimone is also building a new tower to the northeast of the Railroad Pass called the Holiday Inn Express. He wants the Railroad Pass to be a modern complement to the original casino. DiSimone also plans to buy out another 12 acres of unincorporated land surrounding the Railroad to develop more modern facilities.
DiSimone has been very public about the poor condition of the Railroad when he took it over in 2015. He mentions leaky roofs and faulty air-conditioning. But the casino has come a very long way since then.
Railroad Pass was not the first licensed casino in Nevada. Railroad Pass actually holds license number 4, but the first two licenses were never finally given out, and the holder of license 3 shut down operations. So Railroad Casino is now the oldest existing casino in Nevada, in operation from 1931 till the present day.
DiSimone is very aware of the long history of this casino that was once built in a town (Boulder City) where gambling and drinking were illegal. DiSimone wants to preserve the heritage of the iconic casino as much as possible while also developing a more modern look and facilities that will attract enough customers to keep the casino doors open. It is a subtle balancing act, but DiSimone seems to be doing it well.